Driving Innovation at the Intersection of Media and Technology: Insights from Billy Reuben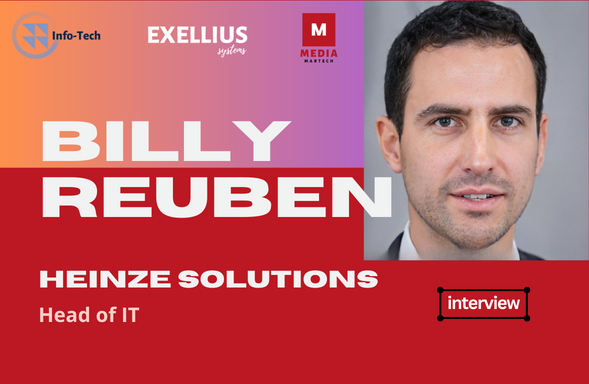 James: Welcome to Media Martech and Info-tech.online, the podcast that explores the intersection of technology and media. I'm your host, and today I'm thrilled to have Billy Reuben, Head of IT at Heinze Solutions, as our guest. Billy, thank you for joining us today.
Billy: Thank you for having me.
James: Can you tell us a bit about your background and how you came to be the Head of IT at Heinze Solutions?
Billy: Sure. I've always had a passion for technology, and I studied computer science at university. After graduation, I worked at a few tech startups and gained experience in software development and IT operations. Then, I joined Heinze Solutions as a software engineer, and I worked my way up to become the Head of IT.
James: What are some of the biggest challenges you face in your role as Head of IT at Heinze Solutions?
Billy: One of the biggest challenges we face is keeping up with the ever-evolving technology landscape. There are constantly new tools, frameworks, and platforms being developed, and it can be challenging to decide which ones to adopt and how to integrate them into our existing systems. Additionally, as a company that provides technology solutions to other businesses, we need to ensure that our products are secure and comply with all relevant regulations.
James: How does Heinze Solutions stay up-to-date with the latest technology trends and developments?
Billy: We have a dedicated research and development team that is constantly evaluating new technologies and assessing how they could benefit our clients. Additionally, we attend industry conferences and participate in online communities to stay up-to-date with the latest developments. We also encourage our employees to continue their education and offer training opportunities to help them stay current with the latest technologies.
James: Can you tell us about a recent project that Heinze Solutions has worked on and the impact it had on the client?
Billy: Sure, one recent project that we worked on was a mobile app for a retail client. The app allowed customers to browse products, make purchases, and receive personalized recommendations. We used machine learning algorithms to provide personalized recommendations based on a customer's browsing history and purchase behavior. The app was a big success and helped our client increase their sales by 20%.
James: What advice do you have for companies looking to improve their technology infrastructure?
Billy: I would say that it's important to have a clear understanding of your business needs and goals. Then, you can identify the technology solutions that will best support those goals. It's also important to have a plan for implementing and maintaining those solutions. Finally, I would recommend working with a technology partner that has a proven track record of delivering successful projects and staying up-to-date with the latest technologies.
Thank you, Billy, for sharing your insights with us today. It was a pleasure having you on the show.
Billy: Thank you for having me.